We recommend enabling Native Interface on workstations experiencing intermittent freezing when pressing Scan.
To do this, please log into the Scan123 Scan Client > (if your Scan123 is frozen from the previous session and you cannot select Tools, please force close Scan123 using the Task Manager in Windows) > Select Tools Menu > Select Native Interface. Please go back into the Tools Menu to verify there is a check-mark next to that option, if there is then it is enabled. Please see the image below.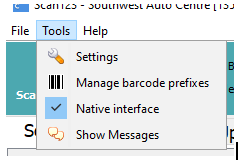 This option enables the use of the Scanner's native interface and uses a more direct connection. The only difference will be an extra pop-up screen after pressing Scan. All you will need to do is press the Scan button on the pop-up screen or press Spacebar once more to continue Scanning like normal.