In this article we discuss how to use the new in app form submission portal.
To begin with you'll be wanting to click on Form Request on the left hand navigation bar. If you do not have this enabled for your company and you have the capability to send forms for e-signatures then reach out to support@scan123.com or go to https://knowledge.scan123.com/kb-tickets/new to open a support ticket to get that functionality enabled.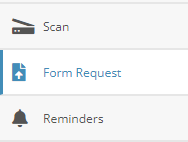 On this page you'll be able to submit one or more of your documents to our team to have them converted into e-signature ready documents. You'll also be able to give us notes on anything that you feel we need to know about this documentation to do a good job of preparing it.

Once the form(s) are submitted you'll be able to view the active requests you currently have waiting, as well as when it was submitted. During the time of submission a support ticket will be created for the request containing any of the notes you've added and will point us in the right direction to work on the pending requests.

Once the request has been completed the request will be removed from the submission portal. You should also receive a follow up email from a member of our team notifying you that the request had been completed.